Our East Gallery features a changing programme of fascinating exhibitions each year. Including exhibits from Welsh artists and creatives, local education and community projects and showcases of our museum collection, you are sure to find something appealing in our exhibition programme.
Saturday 11th February 2023
Natalie Kyte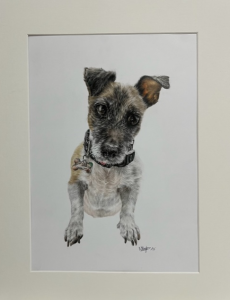 I am a 19-year-old artist from South Wales and the Winding House exhibit will be my first exhibition, so I am extremely excited to be participating in this experience.
Although I enjoy working in a variety of mediums with my artwork, I mainly create my favourite pieces using coloured pencils or graphite pencils, with some watercolour paints mixed in here and there. I also love working with a variety of subjects (particularly those that provide me with a challenge). However, most of my work revolves around animals and wildlife.
Saturday 1st April 2023
Marie Davison presents…The World Around Me
I took up painting when I retired. I am self-taught and spend many hours sketching which I then endeavour to turn to my paintings in watercolour and acrylic canvasses.
I have exhibited in our small local community group which I attend most Friday mornings and I have been lucky enough to sell some of my work.
I have also had a few commissions which I have enjoyed completing.
I find it quite a daunting prospect to be exhibiting on my own now I am well into the elderly sector but very excited at the same time to be given this amazing opportunity.
My husband makes lovely cards of my paintings for me and is a great support.
Saturday 6th May 2023
Neil Carroll presents… Homelands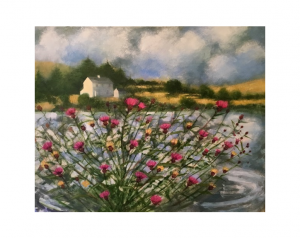 "Neil Carroll's paintings are vibrant celebrations of his home ground and places that are his touchstones. Like many of the best landscape paintings, his pictures are not so much concerned with capturing a view as with declaring love."         Dr. Peter Wakelin
Since growing up at the top end of the Rhymney valley, I have always been inspired by the sheer natural beauty of the place, a place that I love.
St. Sannan's Church was pointed out to me as a child by my grandfather and we would look from his window to see its whitewashed tower catching the evening sunlight eight miles down the valley. There it was, on a hillside overlooking Brittania colliery where he would walk to work as a collier.
Later in life I went to school at Bedwellty which was near the church and the colliery and I visited both at that time to draw and reflect on the significance of each of them.
Nowadays it's a reference point once again and I've returned there in my current work. I am looking towards Bedwellty Church from Butetown and in turn looking to Butetown from Bedwellty Church, including all that comes between, a stretch of homelands to walk and absorb in all seasons and times of day and to declare love for our part of the valley as my subject to draw and paint.
Painting is a true adventure for me and when I paint, I set out to create a response to these experiences in my handling of the paint, my feelings for and about the valley, the change of viewpoints, moods, seasons and qualities of light.
I want to convey my emotions in paint, to speak in paint and to let the paint speak. I hope that when you come and see my work at the Winding House in May 2023, my experiences, feelings and sensations will be shared.
Neil Carroll was born in 1958 in Rhymney. He trained at Newport School of Art and the University of Wales, Cardiff.
He taught in Art Education from 1985 to 2015 and encouraged many students to enjoy their creativity and to go on and work within the creative industries.
Neil was the subject of a 'First Hand' programme made for the BBC in 2001, and a major solo exhibition 'The Spirit Fired' was held at Newport Museum and Art Gallery in 2004.
Neil Carroll is included in David Buckman's 'Dictionary of British Artists since 1945' and also 'Post-war to Post-modern, A Dictionary of Artists in Wales' by Peter W. Jones and Isabel Hitchman.
Carroll's touring exhibition 'Here Comes the Sun' represented Wales at The International Festival InterCeltique at Lorient, Brittany in 2010.
Neil has shown together with his wife the printmaker Yvonne Carroll. Their exhibitions have included 'Kindred Spirit' at The Rhondda Heritage Gallery in 2015 and 'Trouvaille' at Cyfarthfa Castle Museum and Art Gallery in 2019.
Carroll has curated a Newport College of Art themed exhibition 'Forty Years On' due to be shown at Newport Museum and Art Gallery on the completion of renovation work there and he is currently preparing solo exhibitions of new paintings to be held at Winding House in May 2023 and Tenby Museum and Art Gallery in April 2024.
Saturday 3rd June 2023
Maesycwmmer Camera Club present… Miners, Mining and Mines
Every year our club shows off some of the work its members have produced.
We hope you enjoy our attempt this year to show how Wales's coal industry continues to shape the nation and its communities. It's an exhibition inspired by our founding chairman, Haydn Jenkins, who sadly died before he could see his idea realised.
Maesycwmmer Camera Club was formed in April 2019.
Today we have about 20 members from numerous walks of life, with experience and skills ranging from very basic to almost professional.
It's a friendly club where members help each other enjoy photography and learn from each other. It welcomes beginners to the art of photography.
Our weekly meetings are relaxed affairs where guest speakers might show off their work and techniques, or where models might pose for members to practise their picture-taking. We have also tried close-up and table-top photography.
Our monthly and quarterly competitions encourage us to get out and take photographs regularly.
Saturday 12th August
Phil Hughes, Michelle Jones and Jan Pennell present… Hwyl & Hiraeth
Three Rhymney Valley artists join forces this summer with an eclectic exhibition of ceramics, lino prints and photography. Their aim is to evoke the feeling of Welsh belonging with this show, which opens at the Winding House on 12th August.
The three are linked through their connection with a gallery which Jan Pennell owned and ran for many years in Caerphilly. Always on the lookout for new and exciting artists, Jan spotted by chance, work by Phil and Michelle and invited them to become regular gallery artists, which they did until Jan retired in 2021.
Phil Hughes
Phil works in porcelain and enjoys the challenges this very demanding material brings. He enjoys exploring new techniques which add to the excitement and thrill of the creative process. For his latest work he uses both black and white porcelain and finds himself pushing it to its limits and at the same time the porcelain pushing Phil to his limits! He came to ceramics relatively late in life. He worked as head of art at a large comprehensive school, taught in colleges and universities for 25 years and ran classes in adult education centres. Forty years on he retired, making the decision to follow his dream and pursue his love of ceramics. In 2013 he set up his own ceramic studio. He became exhibitions officer for the South Wales Potters, organising ceramic exhibitions throughout Wales and the West Country, then went on to become chairman of the group. Ceramics has now become his passion and is almost a full-time job.
Michelle Jones
Michelle has been a printmaker for numerous years, finding inspiration from nature and the seasons. Patterns created by capturing light and movement are key features of her work- from sand ripples on a beach to vapour trails from a plane. Her lino prints are usually based around a story and are made up from abstract colour backdrops and structured line and linear forms which, when combined with the handmade tinted and textured papers, give the work an additional dimension. She very recently took up ceramics following her retirement, turning to Phil for help and advice. Her wheel thrown pots are also inspired by nature and the seasons and perfectly compliment her lino prints. Coincidentally, back in the 1980s Phil had been Michelle's art teacher at comprehensive school. Michelle went on to graduate with a degree in Graphic Design and categorically insists it would never have happened without Phil's inspiration and encouragement.
Jan Pennell
As former owner of Y Galeri Caerffili, Jan became increasingly fascinated with ceramics so when she retired at the end of 2021, she grabbed the opportunity to develop this newfound interest. Phil's help and wealth of experience is proving invaluable and today she creates 'Bopa Bach & Beti Bach' ceramic Welsh ladies, all handmade and hand painted and each one unique. The ladies have their own Facebook page, which generates much interest with posts of their travels around Wales and further afield.
Jan's career in the art world only took off after she graduated with a degree in Art and Aesthetics and a PGCE in Post Compulsory Education at the age of 40. She seized the opportunity of change: running art galleries and teaching art for adult education until quite recently. In addition to her ceramics, Jan also takes photographs of notable Welsh landmarks, digitally transforming the already stunning scenery into bold and contemporary images.
The artists believe it's good to share a bit of Welshness and hope their artworks bring a smile to a face and bring a bit of hwyl and hiraeth into your homes.
Saturday 30th September 2023
Hannah Newell presents… Forget Me Not
This exhibition explores the use of canary birds in the mines. Canary birds were used from the late 1800s to detect carbon monoxide and have mostly been forgotten. I invite you to travel through my exhibition, learning and enjoying my art about these birds.
Now a bit about me, I have an exhibition in Kenya next year, and some of my work is travelling around Wales at the moment with a charity called the SSAP. I enjoy painting acrylic and use colourful patterns to create work that brings to memory my childhood in Malawi, Africa. As well as being an artist I enjoy running and visiting museums. I'd like to thank the Winding House Museum for allowing me to exhibit and I'm so excited about it.
Saturday 4th November 2023
Art Bambw Gwyrdd
Karen Jones, and Sue Tennet are Chinese Brush Painting artists who  have a common interest in the philosophy and simplicity of the subject, and whilst we follow Chinese techniques we have over the years developed our own individual styles. We enjoy the free style of painting which gives the opportunity for exploiting the artistic potential of the medium; it is spontaneous and more of a performing art.
We are active members of the Chinese Brush Painting Society, and we meet together, every month, as a group, with other artists, to share ideas, discuss and develop techniques.
We regularly exhibit our work in a number of venues in the Caerphilly and Gwent Counties, and we hope that those viewing the paintings on display in this exhibition will enjoy our art.
In the Chinese calendar, 2023 is the year of the Rabbit, which represents kindness and courage.
---
For details and opportunities to exhibit at the Winding House, please get in touch.